Hi!
I am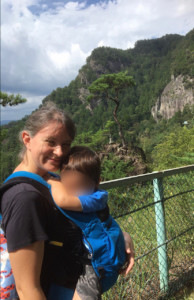 Anika and I gave birth to my son in 2016 in Tokyo.
With a baby wrap and an Ergobaby carrier I thought I was well prepared for our time together.
But then it happened that my son had different expectations for life than I..
He wanted to be with me all around the clock and I had to carry him even inside the apartment all the time if I didn't want to let him scream. I had great problems to put on the wrap and he was still too young for the Ergo.
A long odyssey began where I was on the hunt for a good alternative.
My journey topped in becoming a certified babywearing instructor in Tokyo and in creating this website.
I hope that I will be able to help many parents in Tokyo who struggle as I did.
My mission:
I had great problems in following the baby wrap instructions in YouTube videos. Too great was the fear to do it wrong. In a personal lesson, I want to take away the fear of the wrap!
There is not a day where I don't see people wearing their babies in a not optimal fitting baby carrier. This can result in a sore neck and pain in the back.
I can help to fit the carrier optimal to the body.
Sometimes, the carriers available in the shops in Japan doesn't fit the person who is carrying the baby. I have a good collection of different carriers and help to find the comfiest one!
Some of these carriers I can order with a reduced price from Europe.
My Philosophy
Whatever feels natural for you and your baby is fine!
I am helping you to find this feeling.
---
License:
Basic Babywearing at Die Trageberater Akademie Babywearing Instructor
Further education:
Babywearing Online Consulting by Die Trageberater Akademie
Babycarrier norms and values by Clauwi Austria
Calm and relaxed in everyday family life by Clauwi Austria
Soon: Kangaroo carry in three different ways by Die Trageberater Akademie
---
I am a member of the Japan Babywearing Association