Together with a Boba elastic wrap I received the Boba X carrier for testing, my consulting, and for the sling library.
Today I would like to introduce this carrier to you in detail and share my opinion.
First the basics, copied from the official website:
An intuitive design that regulates in width and height without looping, snapping or rebuilding the carrier. Adjust the seat with one smooth slide and lock in place with a flat press of your hand. From your fresh newborn to your mobile toddler – the Boba X has you covered. Wear your little ones and wear them well!
7-45 lbs (3-20 kg) – No infant insert needed!
Seat micro-adjusts from 8-21″ in width (20-53 cm)
Panel body micro-adjusts from 12-16″ in height (30-40 cm)
25-58″ (63-147 cm) waist belt – A great option for petite and plus sized wearers
Shareable! For both your babies and your partner
Padded leg openings and seat extenders included!
International Hip Dysplasia Institute – Certified Hip Healthy
Machine washable
100% Cotton
All the customer reviews on their website are 5 stars or few 4 stars.
---
I tested the Boba X as a babywearing consultant trained in Europe under the most important points: free airways, well supported upper back for small babies, naturally curved back for small babies, spread squat position with a seat adjustable to the child's size.
My child is already four years old but within the 20 kg and I tested the toddler wearing options with him. However, I need to make clear in advance that he is actually already too tall for this carrier and would need a preschooler.
So I tested the remaining functions with my weighted doll which is 57 cm tall – the size of a one or two months old baby.
introduction
The adjustment of the seat is more than easy. The panel is secured with velcro and sliding along a 5 cm broad band. The adjustments can be made stepless, which is perfect for baby carriers.
The waist belt is broad and well padded. It's shape is perfect for people without a clearly visible waist. It is worn deeper, and the weight of the child is diverted to the hips. There are two pockets on top of the belt to take small necessities.
The shoulder straps can be fastened in two directions and can be shortened, just like the back panel. The chest belt is sliding easily along two rails. There is a small hoop where you can secure a bag, which is very helpful when doing shopping without a car or bicycle. I would have loved such a hoop for when my boy was small and I went shopping every day.
Review
I really like how easy most adjustments can be made. The waist belt can be fastened in two directions and one can pull the side which is easier to reach. The seat adjustment (width) is the easiest option I came along so far.
The width of the seat is just right but there might be problems to adjust it to a smaller baby – always keep in mind that the fabric should go from knee to knee.
A little bit more difficult are the adjustments for a small baby like my doll in the area of the upper back. To create free airways I had to fasten the straps at the back panel, shortening it. The shoulder straps are a little bit too long for me with a small baby and I had to fasten the straps a little to shorten the shoulder straps.
This problem will not happen when you are bigger than me or the baby is older and taller.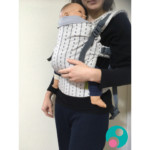 Since there is no option to adjust the width of the back panel in the neck area, the fabric there is not very well supporting the baby's neck and it is quite loose in the area of the upper back. Using the headrest inside the pocket as support doesn't make a real difference. I pulled the fabric from the back panel to the side underneath the shoulder straps. However, I fear, with a real baby which is moving around, this won't work to really support the upper back.
When I tested the carrier with my big boy, I used the zip-on parts to broaden the back panel. This gave his legs a greater support, not letting them hang freely. Of course, the problem with the too long shoulder straps also didn't occur here and the carrier was very comfortable for both of us (I can easily ask my boy and he answers honestly). However, due to his already too big size, the legs weren't supported as I wished for and the back panel wasn't going up to his arms. But I want to highlight again that the Boba X isn't meant for kids at the age of 4!
Conclusion
My conclusion for this carrier is that you might be able to use it properly with a small baby when you are bigger than me. If you are of my size or even smaller, you might run into the same issues like I.
For this reason I would like to recommend the Boba X for older babies who can already hold up their neck by themselves and have a good control over their upper back.
But then, this carrier is a really great option which will accompany you up until toddler-hood!
Of course, you can try it and rent from my sling library!